Soda pada Pakaian Berwarna
Bagaimana Menghilangkan Noda untuk pakaian PUTIH dan BERWARNA?

Gunakan Vanish Oxi Action Bubuk untuk warna lebih cemerlang.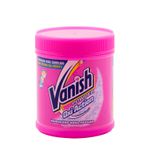 Vanish Oxy Action Bubuk
Penghilang noda cemerlang sejak 1X cuci.
Vanish Oxi Action Bubuk
Merendam
Langkah 1
Tambahkan 1 sendok Vanish Oxi Action Bubuk dalam 4 liter air.
Langkah 2
Rendam selama maks. 1 jam untuk pakaian berwarna atau maks. 6 jam untuk pakaian putih.
Langkah 3
Cuci seperti biasa dengan deterjen dan tambahkan Vanish Oxi Action Bubuk.
Penting:
selalu ikuti aturan penggunaan Vanish yang tertera pada kemasan. Jangan gunakan pada wol dan kulit. Jangan gunakan pada bahan seperti kayu, metal, dll.
Tidak menemukan solusi yang dicari?
Tips Ahli Kami
Top tips remove stains fizzy drinks is do not let the stain dry up because the stain is dry will be more difficult to remove!
Put clothes in hot water, this will help remove the stain before it dries.
Once you have Vanish, follow the rules of use of the above to remove the stain completely.
Artikel
Dengan minuman soda ada di mana–mana, tidak terelakkan kalau noda bekas tumpahan soda akan muncul dari waktu ke waktu. Vanish Oxi Action Bubuk menjadikan noda tipe ini mudah dihilangkan dan jika Anda mengikuti instruksi kami di bawah Anda akan berada pada jalan yang tepat untuk menghilangkan noda soda pada baju favorit Anda dalam waktu singkat.